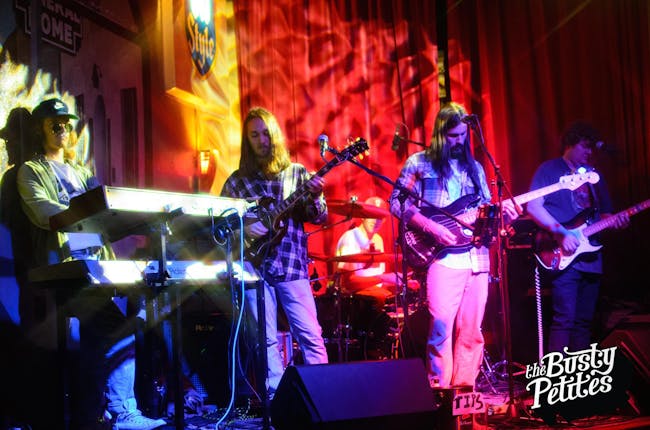 Doors at 8. Show at 9.
Proud Larry's Presents...
The Busty Petites
The funk-rock quartet out of Oxford, Mississippi includes four members, Will Smith on lead guitar, Hall Hastings on drums, Lake Wilkinson on rhythm guitar, and Jack Houk on bass. The Busty Petites pride themselves on live performances, striving to provide a different musical experience at each of their shows. The band members combine their range of influences to create soulful leads and refreshing improvisations, effectively bringing a busty blend of music to their listeners. The Busty Petites, while continuing to play live shows, are working on their debut album, which will echo the styles heard in the band's demo. Influences range from the classic funk tunes of The Meters and Curtis Mayfield to pioneers of live improvisational blues rock such as The Grateful Dead and Allman Brothers Band.
Born and raised in Annapolis, MD, Indie R&B/Soul outfit, Little Bird, now hails from Charleston, SC. They are currently touring their 2018 release, Familiar, which reflects the sonic alchemy of a broad range of musical influences, such as legendary artists, D'Angelo and Erykah Badu, along with revered modern acts, Hiatus Kaiyote, Fat Freddy's Drop, and Nick Hakim.

With the release of Familiar, and a consistent, impressive live performance, Little Bird has received acclaim in their new hometown, being voted the 2018 Charleston City Paper "RnB/Soul Band of the Year". New members Ben Mossman (Bass), Oleg Terentiev (Drums), Noah Jones (Piano) have joined originators Jay Hurtt (Guitar/Vocals) and James Rubush (Guitar) to create the sound heard on Familiar, and continue to develop their sound with material set to be released in 2019. Familiar was released in April 2018, recorded with Engineer/Producers Shane Woods, and Jeff Lucci (Mo Lowda & the Humble) recorded at Headroom Studios (Philadelphia, PA) in October 2017.

Formed originally in 2014 as the brainchild of Jay and James, the group began began relentlessly touring throughout the East Coast in early 2017 on the heels of their self-produced record "Groove" (2015). The early and new sounds of the band landed them gigs performing and headlining festivals such as Silopanna, EastPortaRockin', Savannah Stopover along with sharing bills with the likes of G. Love & Special Sauce, Zach Deputy, Boy Named Banjo, Jimmies Chicken Shack, The Hip Abduction, Caroline Rose, Stop Light Observations, Mo Lowda & the Humble and many more.

Venue Information:
Proud Larry's
211 South Lamar Blvd
Oxford, MS, 38655